Kade & Vos participates in SEATTLE Protects initiative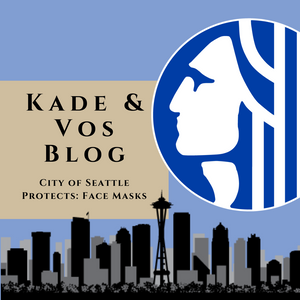 We are honored to be an approved contributing company to the SEATTLE Protects Face Mask Initiative! Read more to learn about the project.
On Monday, May 11, King County directed the community to wear face coverings over the nose and mouth while in an indoor public setting, such as a grocery store, or outside when it is difficult to maintain six feet of physical distance. Learn more about the Directive to wear face coverings at kingcounty.gov/masks.
SEATTLE Protects was created to: 
Help businesses and the public comply with the Seattle/King County directive on face coverings,  

Support local manufacturers and small businesses, 

Provide access to cloth face coverings to vulnerable populations such as low-income, homeless and elderly, and 

Reduce competition with healthcare for medical grade masks. 
Since the beginning of May, Kade & Vos has been engaging with the City of Seattle to help develop a program called SEATTLE Protects. They have created an amazing website that is a face covering marketplace for businesses and individuals to easily find face coverings of a certain quality at an accessible price. The city has engaged small, medium and large companies, specifically, from the Greater Seattle area to manufacturer and be highlighted within SEATTLE Protects.
At Kade & Vos we hope that increasing the availability of fabric, non-medical grade face masks will allow more medical and surgical masks to reach the people who need them most: front-line health care workers. As we continue to develop, we're learning more about the needs and comfort for face masks. We currently have the following Face Mask products available:
Cloth Face Mask $7.00

Egyptian Cotton Cloth Face Mask (ideal for those with sensitive skin) $14
Products coming soon:
First Responders & Essential Workers Face Masks $18.00 (currently taking pre-orders)

Adjustable Ear-Loops Cloth Face Mask $10.00 (sign up to be notified when they are available).
We are also proud to report that since the beginning of April, we've donated over 500 masks to local hospitals. With donations from the community and generous donations from our customers, they've contributed to the greater good and helped keep our communities safer. To read more about our initiative, check the donation page here. 
Thank you all for your support during this unprecedented time. I am overwhelmed with gratitude for the generosity, kindness and encouragement from all of you. Please stay in touch with us, by joining our newsletter or following us on social media. We only send emails about sales or when a new product is available so you don't have to worry about endless emails from us. 
Wishing you and your loved ones safety and good health.
Much love,
Dr. Deb
pronouns: she/ her(s)/ they
e: deborah.christel@kadevos.com
Connect with me
LinkedIn   -   Twitter   -   Facebook   -   Instagram   -   YouTube
1 Response
Leave a comment
Comments will be approved before showing up.