Exciting news! Kade & Vos is joining Panty Drop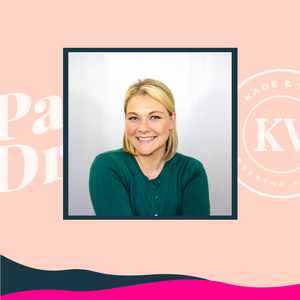 Hi Everyone, 
First, I hope you and your loved ones are safe and healthy. I know this is a hard time for many of us, and I'm sending you all warm and loving vibes. Despite all that we are going through, I have some inspiring news to share with you. I am incredibly pleased to announce that Kade & Vos is merging with Panty Drop. Panty Drop is a highly respected size-inclusive underwear company, and they are just as dedicated to offering quality underwear as Kade & Vos.
I know you must be wondering, what does this mean for me?
There is no need to worry about losing access to Kade & Vos undies. They will be available -- just at a new site -- AND it gets better because you'll have even more underwear brands and styles to check out. 
Want to hear the best news? I have joined the Panty Drop team to lead their Design and Product Development! My move to their team means even more quality styles in plus-size undies! We're thinking lace, seamless undies, and whatever else you want! I am so excited to have the opportunity to lead the fashion design process with such a talented team. Add to that the additional knowledge, support, and breadth of services provided by the Panty Drop Team - we feel we will have an underwear service unmatched by none. As most of you know, my passion lies in creating clothing that is comfortable, accessible, affordable, and designed so well; you just might forget you're wearing it! By joining Panty Drop, I get to do more of that. While I have loved building Kade & Vos, my biggest desire is to design for larger bodies, and that's what I'll get to do for you. 
Here's what to expect:
We will continue to provide the excellent level of service and support you have all come to expect but with a new email address:

help@pantydrop.me

 

We are going to combine our expertise and experience to offer more of what you deserve: even more underwear styles for plus-size babes.

Stay tuned for an email from Julie, the founder of Panty Drop. She is super smart and devoted to making the shopping experience easier and more fun for people of all sizes. 

And last but not least: the new

K&V Classics colors

! We have our brief, short, and thong available in Black, Olive, Wine, Spice, and Carmel Available now, and look for an email in the next week from Panty Drop advertising these styles.
Is there a style that you want me to design at Panty Drop? Drop me a note at deb@pantydrop.me and tell me what we can do for you!
Always my best,
Deb Christel
Leave a comment
Comments will be approved before showing up.
Size Chart
Size Inclusive Guarantee
Our Size Inclusive Guarantee: Don't see your size? let us know and we'll get it for you at no additional cost.
 Find Your Size
Use the chart below to determine your size. If you're on the borderline between two sizes, order the smaller size for a tighter fit or the larger size for a looser fit.
Don't have a measuring tape? No worries! We'll send you one for free.
| K&V | US | US PANT | BUST | WAIST | HIP |
| --- | --- | --- | --- | --- | --- |
| S | S | 4/6 | 30"-34" | 26"-29" | 26"-49" |
| M | M | 8/10 | 32"-38" | 30"-33" | 29"-52" |
| L | L | 12/14 | 36"-40" | 34"-37" | 32"-55" |
| 1L | XL/1X | 16/18 | 38"-44" | 38"-41" | 35"-58" |
| 2L | 2X/3X | 20/22 | 42"-50" | 42"-45" | 38"-61" |
| 3L | 3X/4X | 24/26 | 48"-54" | 46"-49" | 41"-64" |
| 4L | 4X-5X | 28/30 | 52"-58" | 50"-53" | 44"-67" |
| 5L | 5X-6X | 32/34 | 56"-62" | 54"-57" | 47"-70" |
| 6L | 6X-7X | 36/38 | 60"-64" | 58"-61" | 50"-75" |
| 7L | 7X-8X | 40/42 | 65"-69" | 62"-65" | 53"-80" |
| 8L | 8X-9X | 44/46 | 70"-74" | 66"-70" | 56"-85" |
At Kade & Vos, we do not use the term "Plus Size". We feel that calling some sizes "Plus Size" means that these sizes and shapes are somehow different from other sizes. 
Still unsure about your size? Check out our sizing videos for a more detailed tutorial on measuring yourself.
Read more about sizing in our blog.
Read more about our Mission, Vision, Values & Purpose 
HERE