A note from Dr. Deb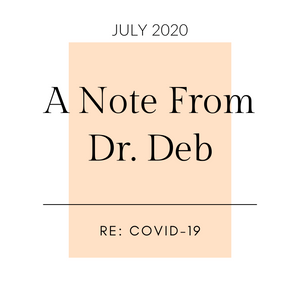 To Our Customers and Communities,
This is a challenging time for many of us as circumstances around COVID-19 continue to unfold locally, nationally, and globally. It's been a while since we last touched base and for those of you who are familiar with us, you know that our emails are not the most serious thing in your inbox. I am sorry that I haven't checked in with you all sooner. As you may know, we started making cloth face masks and it's been overwhelming. Every business decision I make is with you in mind. I think about you all the time and hope you and your loved ones are healthy and safe. Kade & Vos is dedicated to the health and livelihood of our customers, employees, and the vendors who support us all. The work we do and why we do it is all about helping you feel comfortable, included, and safe in our clothes. Since the coronavirus outbreak, we've been working very hard to apply those same principles to our face masks. For many, and myself included, this year has been uncharted territory and I know we can get through this challenge together. 
When the CDC recommended we wear masks in March, I knew in my heart that if people needed them, we would make them. Within just a few weeks we had hundreds of friends and family members asking for masks.  Not fully knowing how to do it, we dove in head first. We shifted all of our USA production to sewing masks and put our other production on hold. We still have inventory of our amazing size-inclusive cotton undies, bras and loungewear but to be honest, I don't know how long this situation will last, what other changes may come, or what it means for our community or our world as a whole. I will always be devoted to making fashion more inclusive and comfortable for larger bodies. 
So, the good news is that our values haven't changed. 
No matter what we do or make at Kade & Vos we are always dedicated to you. It has always been, and always will be, our goal to provide you with the best designs, the safest fabrics for your skin, the most comfortable fit, sustainable practices, and most of all inclusive sizing. If, for any reason, a product of ours doesn't fit (too big or too small) we will send you another one at no extra cost or give you a full refund. Your comfort, wellbeing, and happiness is the most important thing to us. 
Here are the business updates and what we're doing:
All of our cloth face masks comply with the most recent research for cloth face mask efficiency. They are designed to provide the most protection and comfort. You can read more about the research we've used to make our masks our new blog, "The most important things you need to know about your Cloth Face Masks". While adjusting to wearing a face mask can be uncomfortable at first, we're making it as as easy as possible. This is why we're offering several affordable styles in many different prints, patterns, colors, and sizes. We say, cover your face - not your personality!
Please stay in touch with us to see what's happening by subscribing to our newsletter and following us on social media. That's where you'll first find any new updates. FaceBook - Instagram - Twitter - Pinterest 
There are a lot of other ways you can support us, too. In addition to subscribing to our newsletter and following us on social media, you can tell a friend or family member about us. If you've ordered a mask we'd LOVE to see it on you. Give us a tag or mention on social media so we can see how cute you all look while wearing your masks. With generous donations from you, we've also been able to donate over 500 (and counting) masks to our local communities. If you're able, please consider making a small donation so we can continue to support those who may not be able to afford a mask. Read more about our call to action Cloth Face Mask Fund here.
Additionally, if you have specific questions not addressed here or on our website, please reach out to us. The best way to get in touch is via email: kadevos@kadevos.com We'll do our best to get back to you within 24 hours during the work week and do our best to take care of you.
I am so grateful to you and your ongoing support. I am grateful that by supporting Kade & Vos and wearing a mask, you're doing your part to keep each other safe. 
Much love always,
Dr. Deb
deborah.christel@kadevos.com
Leave a comment
Comments will be approved before showing up.