COVID-19 pandemic: Kade & Vos response and call to action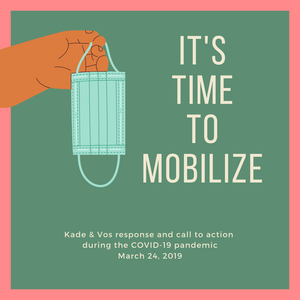 Kade & Vos Response to COVID-19 and Call for Sewers to Make Masks
Our nation's supply of manufactured surgical masks are at critically low levels. Hospitals in Washington State are reaching out to local sewers to safeguard their current supply and to have masks as a last resort. The CDC has Strategies for Optimizing the Supply of Face-masks and our local hospitals are now operating at Crisis Capacity.
To the surprise of many, the guidance recommended that if there is a shortage of face masks in clinics and hospitals, nurses, doctors, and staff are to use homemade masks.
CDC tells health workers to improvise
It's important to note that, at this point, the masks being requested at our local hospitals are not for healthcare workers who are treating patients with coronavirus (COVID-19), they will be used for others such as patients coming in with a broken leg or other ailment, janitors, office clerks, and other positions that are not in direct contact with COVID-19 patients.
However, "In settings where face-masks are not available, HCP (health care professionals) might use homemade masks (e.g., bandana, scarf) for care of patients with COVID-19 as a last resort," the CDC writes under the entry for "When No Facemasks Are Available, Options Include."
I am hopeful our hospitals, doctors, nurses, healthcare providers and the people who need them get the medical grade masks they need to stay healthy and safe. 
In the meantime, we must help. We can make a difference by providing homemade masks that allow our hospitals to reserve the medical grade masks for critical needs and cases.
Who needs them:
From the many calls I've placed, hospitals in Seattle are not accepting homemade masks at this time because they are anticipating a large shipment soon.
However, south of Seattle and surrounding cities have only received a fraction of  certified Personal Protective Equipment (PPE) and do not know when they will get more. Monday, I spoke with Tacoma General Hospital and they are in dire need of masks. 
Tacoma General (which connects with Mary Bridge Children's Hospital) is requesting all homemade masks to be dropped off at their main entrance in Tacoma, Wa. 
Tacoma General Hospital: 315 M M.L.K. Jr Way, Tacoma, WA 98405
They've requested that we drive through the main breezeway and call when you arrive (253) 403-1000 OR wait for an attendant to come to you. 
The masks dropped off at Tacoma General will be washed before use and distributed to the following hospitals: 
If you are not able to drop these off at Tacoma General, consider shipping them to a friend in the area OR shipping them to us at Kade & Vos and we will deliver them for you. 
Kade & Vos  

2923 N. 15th St.

Tacoma, WA 98406

 
Here are two other Hospitals I was able to connect with that are also accepting drop offs:
NorthWest Kidney Centers
602 Oakesdale Ave SW, Renton, WA 98057
206-292-2771
Drop off at main entrance 8am-8pm

Evergreen Health Monroe
14701 179th Ave SE, Monroe, WA 98272
Leave in a box or bag anytime/day (24/7) with the name Vince Reynolds. He is coordinating the mask distribution.
If you are willing, able and ready to sew, click here for the sewing directions.
If you are not a sewer and want to donate a mask, Kade & Vos will make one on your behalf for $2. 
Please share this blog on your social media so we can mobilize now. 
Much love,
Deb Christel
President & CEO
1 Response
Leave a comment
Comments will be approved before showing up.