Summer Intern 2018 | Jessica Collins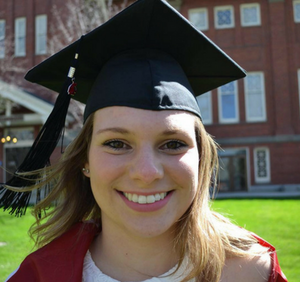 Tell us a little about yourself: I just finished my senior year at WSU with a degree in AMDT and a degree in Kinesiology. I aspire to one day work for an athletic apparel company as a technical designer.
What or who inspires you?: My family and making a difference in the fashion industry. Being a double major in Kinesiology and apparel design I have come to know many issues with the athletic apparel industry that I want to work to change.
If you could go anywhere, where would you go?: London, I have wanted to travel there for so long.
What are you passionate about?: I am passionate about apparel design it lets me be creative in a way I didn't know I could before attending WSU.
Favorite movie?: I love movies so this is a very hard question for me. I'll have to think about it more.
Best meal you've ever had: Mom's homemade cougar gold mac and cheese
Fun fact about you: I have a miniature dachshund named Hurley he is almost two years old.
What accomplishment are you most proud of?: Finishing college in four years with two degrees.
What's your favorite thing about Kade & Vos?: Working with the awesome founders! I also love knowing I am working for a company that is going to change the fashion industry.
What's your favorite underwear style?: Thong
What clothing size(s) do you wear?: Small or Medium
Where can people find you?
Facebook: https://www.facebook.com/jessica.collins13
Instagram: Jessica_collins13
Twitter: jesscollins1338
Leave a comment
Comments will be approved before showing up.