Tiana Carino / Wanda Woodworthy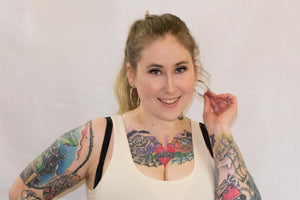 Name: Tiana Carino / Wanda Woodworthy
Tell us a little about yourself:
I am a 37 year old mom of 2 and I have R.A.
What or who inspires you?:
My fellow pin ups.
If you could go anywhere, where would you go?:
Some place warm.
What are you passionate about?:
Pin up, cannabis, modeling, and autoimmune awareness.
Favorite movie?:
Bran Stokers Dracula, The Sweetest Thing, Dirty Dancing, Cry Baby
Best meal you've ever had:
Habachi


Fun fact about you:
I own and breed ARC Boston Terriers - Boss Bostons
What accomplishment are you most proud of?:
Winning my first Pin-Up pagent
What's your favorite thing about Kade & Vos?:
They are a women owned small business.
What's your favorite underwear style?:
Boy short style. 
What clothing size(s) do you wear?:
Large/ 14
What are your body measurements:
Bust: 40DD
Waist: 35
Hips: 46
Height: 5'3"
Where can people find you?
Facebook: Wanda Woodworthy
Instagram: Wanda Woodworthy