Joy / Smiley Peur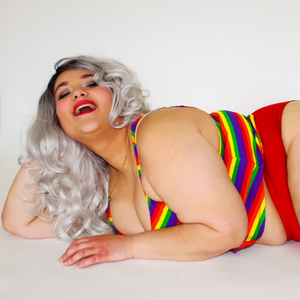 What or who inspires you?
 My mom (Renata) and little sister (Lear). They are total bad-asses.  Both just trailblazers in their own right. Also, the women I go to for advice and guidance.  
If you could go anywhere, where would you go?
I REALLLLY want to go to Japan. 
What are you passionate about?
Everything lol! I try to lead with love and that passion for compassion leads me to different places. Love for myself which comes through in my modeling and burlesque. Love for my communities, volunteering with an awesome organization in the Snohomish County. Also gardening and Sex Positivity and Financial Literacy FOR ALL!!!   
Favorite movie?
I legit can't sit through a movie. I prefer T.V shows currently Good Omens and POSE are doing everything for me.  
Best meal you've ever had:
My mom makes this baked avocado dish that I ask for every birthday and if you come over and you don't like it, you don't come back. 
Fun fact about you:
I speak a couple of languages (Hebrew and French). I have an affinity for painting ceramic mugs inspired by pop culture.  
What accomplishment are you most proud of? For creative work:
Getting to work PRIDE at Rebar this year. I started my queer babe journey there and it is a real closing of a circle. To be able to hopefully give some young human the magical experience that I got when I walked into a space that made me feel perfect, just as I was. Would be a cherry on top!
What's your favorite thing about Kade & Vos?:
The quality of the product and the humans involved. I was a huge fan even before I got the privilege of working with Kade & Vos.  The representation of bodies that looked like me!!! I got excited. Then I met Deb the creator and Amethyst, the operations manager and just fell more in love.
What's your favorite underwear style?
Thong with full frontal coverage for belly support. Or just the comfiest high waist briefs. 
What clothing size(s) do you wear? 
On top, 18/20 on bottom 22/24 - ISH
 What are your body measurements? 
44 – bust 
37-waist 
50 - hips
Where can people find you?  
https://www.instagram.com/smileypeur/
https://www.facebook.com/thesmileypeur/
https://www.facebook.com/events/453418402087466/ - June 29th PRIDE