Emmeline Halls-Ricker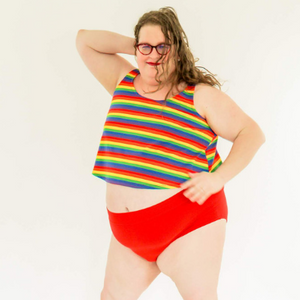 Tell us a little about yourself:
 I'm a queer, fat, trans, nonbinary lady.  I do burlesque and dance, and i'm a giant nerd.
What or who inspires you?
 People who own who they are, and live their truths unapologetically. 
If you could go anywhere, where would you go?
I'd like a food tour of the Mediterranean coast. Spain, France, Italy, Greece, Turkey, Morocco. Omnomonom
What are you passionate about?
Dancing. Movement. Seeing people create, whatever the medium they use. 
Favorite movie?
 Eh... I'm honestly not sure. 'What We Do In The Shadows' was the last good movie I think I saw. 
Best meal you've ever had:
 I'm gonna go with my wedding dinner. My workplace at the time supplied it. 9 courses, high end fine dining. My father-in-law said 'People do this for fun?'

Fun fact about you:
 I've lived all over the US, and probably went to more elementary schools than any 10 of you combined. (no, not a military brat either)
What accomplishment are you most proud of?
 Getting over my body hangups and doing burlesque.

What's your favorite thing about Kade & Vos?
 The clothes are cute, comfortable, and they actually fit

What's your favorite underwear style?
 Thongs, followed by boyshorts

What clothing size(s) do you wear?
 24/26 3x usually

What are your body measurements?
B 56.5 W 54.5 H 61.5    5'10". 

Where can people find you?
Instagram @muusudgoi, Facebook/Twitter Em Em Goode