Susan Curry - Suggamonkey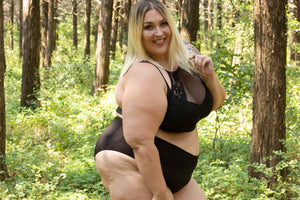 Name: Susan Curry
Tell us a little about yourself: I love empowering women through my blogging of fashion and how through fashion we can be confident as well as sharing other women's stories of strength and showing women how to be confident and empowered. As a Xehar Fashion Fairy I am spreading a message of confidence and self love.
What or who inspires you?: I am inspired by the women (and men) who message me or tell me in person how I have inspired them.  Often when I am feeling a low moment, someone comes through with a message of their own empowerment and I think WOW, if they are empowered by me at some of my lowest points, just imagine what I can do in my best moments.  This keeps me doing what I do and continuing in the grind of the hustle.  
If you could go anywhere, where would you go?: I would go to an exotic secluded island for at least 3 weeks with no access to wifi or Santorini, Greece for an epic photoshoot, this place is so amazingly beautiful.
What are you passionate about?: I am passionate about empowering women through their love of fashion and finding the fashion that makes them feel good about themselves. I am also passionate about sharing women's stories of liberation and how they used their strength to arrive at this moment in their life.
Favorite movie?: My favorite all time movie is Minority Report, I love anything Sci-Fi and futuristic.
Best meal you've ever had: I've had so many great meals, but one of the best is definitely New Years 2016 at the hotel 4 star restaurant at the Fairmont in Dallas, TX. We got turned down once because we were in our sweats thinking we were looking great, needless to say we changed and they didn't even recognize us.
Fun fact about you: I also design custom bodysuits under the brand Bella 2 Couture and my mom is my seamstress.
What accomplishment are you most proud of?: Of obtaining my Masters of Business Administration, Focus on Leadership Development and continuing on with my Doctoral in Business (about halfway through) while focusing on research related to fashion, women in business, and social media and the role it plays in business.
What's your favorite thing about Kade & Vos?: My favorite thing about Kade & Vos is their simplicity, their transparency in how and where the material is sourced from, the multiple style selection, the size availability, and the quality put into the product.
What's your favorite underwear style?: My favorite underwear style for over 10 years was the boycut style, but recently a few years ago have begun to love thong styles.
What clothing size(s) do you wear?: In shirts a 2x or 3x depending on the stretch, jeans: 22/24 again depending on stretch and length. In dresses a 22, underwear with thongs I usually get in a size very large for comfort, but otherwise I am a size 10 panty.
What are your body measurements:
Bust: 55"
Waist: 48"
Hips: 59"
Where can people find you?
Facebook: @susancurryaliberatedwoman
Instagram: @suggamonkey
Twitter: @suggamonkey_us
Youtube: Coming Soon!