Miss Debbie Darling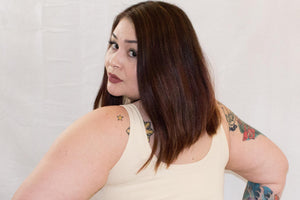 Name:
Miss Debbie Darling (Debbie O'Neill)
Tell us a little about yourself:
I am a plus size promo/ pinup and alternative model who is also a makeup artist!
What or who inspires you?:
Tess Holiday, Ashley Graham, Betty Paige and Ellen Degeneres
If you could go anywhere, where would you go?:
The Philippines so I could see the other side of my family. 
What are you passionate about?:
I am passionate about accepting people of all shapes and sizes. I am also passionate abut music, art in any type of form, and helping others. 
Favorite movie?:
My neighbor: Totoro
Best meal you've ever had:
My mom's homemade lumpia and chicken adbo. Yumm!
Fun fact about you:
I suffer from a chronic illness called Crohn's Disease. I've had 4 surgeries. 
What accomplishment are you most proud of?:
Having the opportunity to model for Spencer's online and becoming a published model. 
What's your favorite thing about Kade & Vos?:
That the brand stands for women who look like women.
What's your favorite underwear style?:
Cheeky style.
What clothing size(s) do you wear?:
Women's 1X-2X, dress size 18/20.
What are your body measurements:
Bust: 48
Waist: 43
Hips: 55
Height: 5'6"
Where can people find you?
Facebook: Miss Debbie Darling
Instagram: @missdebbiedarling