Katie Mae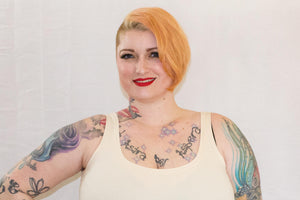 Name:
Katie Mae
Tell us a little about yourself: I am a momma of 3 and found modeling to boost my confidence and self-love. Since I started 5 years ago, I never imagined it would take me this far!! Now I am internationally published and represent a few different brands and organizations that speak to my heart!!!
What or who inspires you?: My mother inspired me to never give up, as she fought cancer for 5 years, when she was given months to live. I find that same inspiration in my children.... they never give up and are always trying their best!!
If you could go anywhere, where would you go?: I would love to travel abroad to visit Italy, Scotland and Ireland. My mother is full Italian and my father is an Irish-Scot, so I would love to enjoy those cultures first hand.
What are you passionate about?: Oh my gosh, my passions are SOOOO MANY!!! I love food, playing outdoors, hiking, music, the ocean, the mountains, the trees, baking, movies, chocolate, playing dress up and more!!!
Favorite movie?: Armageddon with Bruce Willis..... well really anything Bruce Willis is in!!! What a dream boat!!!
Best meal you've ever had: Have you ever been to El Gaucho in Seattle?!?!?!?! The absolute best salad and steak I have ever had!!! My fella took me there for our anniversary last year!
Fun fact about you: I practice stupid human tricks. haha! Specifically, I can open most doors with my feet and can light a lighter with my toes.
What accomplishment are you most proud of?: Taking a stand to love myself!!! This accomplishment has made me a better mom, lover and friend.
What's your favorite thing about Kade & Vos?: The diversity!!!
What's your favorite underwear style?: I am a thong/booty shorts/commando kinda girl!
What clothing size(s) do you wear? I range from dress size 14 to a medium/large.
What are your body measurements:
Bust: 48" or 38G
Waist: 38"
Hips:48"
Where can people find you?
Facebook: www.facebook.com/mskatiemae
Instagram: @mskatiemae21
Email: mskatiemae.model@gmail.com