Lusty Luciano/ HD Alexander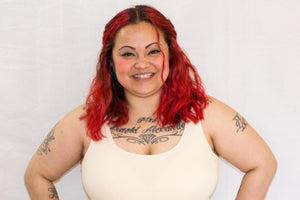 Name:
Heather Darleen (HD) Arnold-Alexander
Tell us a little about yourself:
I am a 30 year old mother with 2 kids and I love to pose for the camera and create music.
What or who inspires you?:
Lately, I've been trying to be my own inspiration. I want to be the something my daughter looks up to.
If you could go anywhere, where would you go?:
Dubai and Mecca and Harry Potter World In Florida. 
What are you passionate about?:
My music, my kids and loving myself. 
Favorite movie?:
Anything Potter, Labyrinth, Friday and Little Mermaid
Best meal you've ever had:
oooo... I'm greedy so I don't have just one best meal, but if I have to choose, it's sushi.
Fun fact about you:
I have an obsession with Harry Potter and mermaids. 
What accomplishment are you most proud of?:
Learning to love myself.
What's your favorite thing about Kade & Vos?:
The fact that their clothing is designed for women os all shapes and sizes. 
What's your favorite underwear style?:
I like to wear boxers at night but otherwise I'm commando.
What clothing size(s) do you wear?:
Shirts L/XL, Pants XL (14/16)
What are your body measurements:
Bust: 44
Waist: 38
Hips: 45
Height: 4'11 1/2"
Where can people find you?
Facebook: Heather Darleen (HD)
Instagram: @island.monroe