Dr. Deb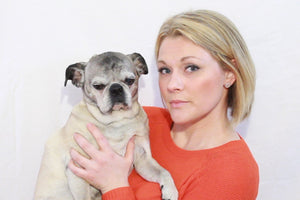 Name: Dr. Deb
Tell us a little about yourself: I used to be a professor and I recently started a women's underwear company ;) and it has been so much fun putting together this vision where women of all sizes shop together!
What or who inspires you?: I'm inspired by the possibility of a world where we don't make assumptions about people based on gender, skin color, hair color/style, body size/shape, body adornments, ability, mobility, income or clothing and we treat one another with respect.
If you could go anywhere, where would you go?: I've been wanting to travel to Peru to visit Machu Piccu but I also want to visit Asia and Greece, Turkey, France and Egypt and, well, honestly a lot of places.
What are you passionate about?: I am passionate about inclusive fashion, pugs, sewing and reading.
Favorite movie?: Christmas Vacation
Best meal you've ever had: Grandma's potato salad
Fun fact about you: I flop flip my words around a lot.
What accomplishment are you most proud of?: My PhD
What's your favorite thing about Kade & Vos?: How can I pick just one thing!
What's your favorite underwear style?: I'm a classic brief, full coverage kind of woman.
What clothing size(s) do you wear?: I wear anything from a Small-2X depending on the brand and time of the month! Depending on things such as salt intake, menstrual cycle, stress and if I'm traveling -  I naturally fluctuate 1-2". This used to really bother me until I realized that I was normal! If you're body fluctuates too, welcome to the normal club!
What are your body measurements:
Bust: 38-39
Waist: 29-32
Hips: 42-44
Where can people find you?:
Facebook: Deborah Christel
Instagram: @dr.debchristel
Twitter: @debbie.christel
Youtube: Kade and Vos