Chiffon Headstrong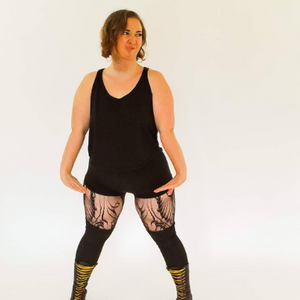 Tell us a little about yourself: 
I'm a 39 year old pansexual polyam cis woman. I moved to Seattle from Idaho a few years ago and my life has become unbelievably more enriching as a result. No one in Idaho, ever, would call me "model". 
What or who inspires you? 
My mother, my sisters, and all puppy dogs ever. 
If you could go anywhere, where would you go? 
Underwater. I would shrink myself down, and live in a sun-dappled pool of a mossy stream. 
What are you passionate about? 
BODILY AUTONOMY. 
Favorite movie? 
Shaun of the Dead. It's scary *and* funny. 
Best meal you've ever had: 
One of my sweeties makes a grilled cheese sandwich with a fried egg inside and I'll growl at you like an alley cat if you get too close while I eat it. 
Fun fact about you: 
I was the first person in my high school in the 90s to wear platform shoes. People made fun of me, and then the next year, they were EVERYWHERE. I'm not saying it was me, but ... 
What accomplishment are you most proud of? 
I have the honor of spending most of my time doing work that I'm passionate about. I've worked at Planned Parenthood for 14 years, and I've been a burlesque performer for 3. Both jobs are demanding, challenging, scary and I can't live without them. 
What's your favorite thing about Kade & Vos? 
Shooting with Kade & Vos is like going to church is supposed to be. It's uplifting as fuck, everyone has a home there. 
What's your favorite underwear style? 
High waisted
What clothing size(s) do you wear? 
Usually I'm a size 8, but "women's" clothing sizes are so broken and dumb that sometimes I'm a 6 and sometimes a 10.