Chelsea Ann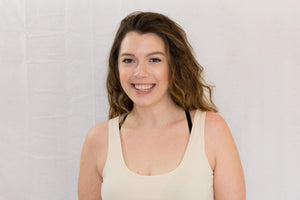 Name: Chelsea Ann
Tell us a little about yourself:
Part-time barista and business student.
What or who inspires you?:
People who aren't afraid to follow their dreams. 
If you could go anywhere, where would you go?:
A sandy beach in California.
What are you passionate about?:
Photography and my family.


Favorite movie?:
Titanic.
Best meal you've ever had:
Spaghetti! Anything pasta!
Fun fact about you:
I can belly dance. 
What accomplishment are you most proud of?:
Returning to college.
What's your favorite thing about Kade & Vos?:
The mission statement - making ALL women feel beautiful. 
What's your favorite underwear style?:
Thong/ Lace
What clothing size(s) do you wear?:
Pants 8/10, Shirts - Medium
What are your body measurements:
Bust: 34 C
Waist: 30
Hips: 38
Where can people find you?
Instagram: ch3ls3aann