Amethyst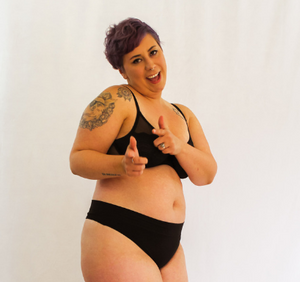 Name: Amethyst
Tell us a little about yourself:
I'm a visual merchandiser for the Gap, inc. family of brands. I love doing visuals in the fashion industry and I love styling.
What or who inspires you?:
My best friend, Brenna! She's such a genuinely good person who cares a lot about the world and the people in it. Her dedication to working with differently-abled kids and creating a loving environment is awe-inspiring. 
If you could go anywhere, where would you go?:
I just learned I'm 1/4 Irish and Scottish so I'd love to go to the British Isles!
What are you passionate about?: self care, Impressionism art, and Mac & cheese!
Favorite movie?: Potterhead 4 lYfE.
Best meal you've ever had: my granddad's BLT. So simple.
Fun fact about you: I went to cosmetology school when I was a teenager!
What accomplishment are you most proud of?:
Keeping my aloe Vera plant alive (yes, I realize they are easy plants to keep.)
What's your favorite thing about Kade & Vos?: the mission to dismantle size-exclusivity in the fashion industry!
What's your favorite underwear style?:
"Thong tha thong thong thong"
What clothing size(s) do you wear?:
Large, 10/12 typically.
What are your body measurements:
Bust: 44 in.
Waist: 36 in.
Hips: 45 in.
Where can people find you?
Instagram: @perksofbeingashithead