Kade & Vos Partners with Washington State University to Celebrate Gender Expression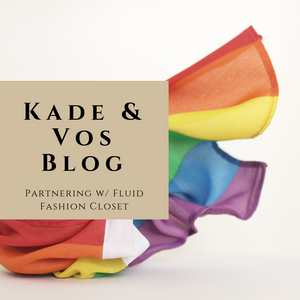 Kade & Vos Partners with Washington State University to Celebrate Gender Expression
At Kade & Vos, we know how important it is for women of all shapes and sizes to have access to underwear that is comfortable, their size and makes them feel beautiful. It is our mission to create that underwear for each of our customers, even if it means making a pair of panties or a piece of sleepwear especially for them.
Having underwear that fits, is comfortable and feels like it is made for you is something that everyone wants and needs. This becomes an issue as non-binary and trans people struggle to find underwear that fits their bodies, meets their needs and reflects their identities.
That is why Kade & Vos is sponsoring an amazing new resource at Washington State University called, Fluid Fashion at The Gender Identity/Expression and Sexual Orientation Resource Center (GIESORC).
We are teaming up with the shared goal of giving everyone the chance to find clothing and underwear perfect for them.
Why is Non-Conforming Underwear Important?
For people who are just beginning to explore non-conforming clothing, underwear is a great place to start. Underwear can be completely private. No one else has to see it. However, for those people who are trans, gender-nonconforming or nonbinary, going to a department store to purchase underwear can be an uncomfortable and unsuccessful experience. There are no gender-neutral underwear options widely available. Women's underwear is often created to be tiny, sexy, and overly-feminine. Men's underwear is often offered in limited colors and in a handful of cuts, leaving little room for self expression or personalization.    
Mass-produced underwear brands seem determined to perpetuate cis-heteronormative ideals. Most brands tell a story of women being hyper-sexualized, feminine, thin and heterosexual. They portray men being big, masculine, tough and stoic. Worst of all, traditional underwear tells a story where everyone is either a fully-conforming man or woman.  
Jay Strawder, an Atlanta native who identifies as agender, shares their thoughts on the subject:
"Underpants, specifically, are a sensitive topic for a lot of people- inside and outside of the LGBTQ community and for people who are outside the gender binary.

Truthfully, there is no underwear outfitted to fit a transgender man or transgender women - or even someone who identifies as non-binary or genderqueer. Underwear is made for the binary spectrum of gender- it's just a fact. We have to see past this binary when exploring gender. We can't see them as "men's" or "women's" underwear, we have to see them as simply underwear."
What is the GIESORC?
The Gender Identity, Expression, and Sexual Orientation Resource Center, or GIESORC for short, at Washington State University has created an amazing new resource with the mission to create an affirming, fun place for LGBTQ+ folks to explore identity expression through clothing. This closet will be full of all kinds of clothes for students and people in the community to experiment with and discover new ways to express their themselves.
 Of the closet, Strawder states,
"I think that having a safe space to explore gender in a non-judgement zone is possibly one of the best ideas I've ever heard of. It's something I personally wish I had when I started to explore my own gender. I just eventually got used to the passive-aggressive side-eye when shopping at Macy's for a dress I wanted or for the pair of heels I was trying to squeeze into. But now, in our Millennial and Gen Z society- we shouldn't have to face these fears like we do. It starts with the safe spaces- eventually it will go to small businesses, and finally all the way up to department stores. There will be a time when most stores are gender non-conforming."
GIESORC also offers students at WSU other resources, including:
Administrative support for

LGBTQ+ issues on campus.

Advocacy for developing policies of interested to the LGBTQ+ community

Resources that serve LGBTQ+  students and university employees

Education and action on harassment, bias, and bullying against LGBTQ+ people on campus.
How Kade & Vos is Helping
Kade & Vos is extremely excited to help GIESORC continue their mission by donating gender non-conforming underwear to their closet. To date, we have donated:
Boxer briefs

Male g-string thongs

Trans short boxer briefs with double pouch

Female cotton sporty boy-short undies

Gender neutral short style briefs
Kade & Vos has also donated underwear accessories including penis pouch enhancer pads and FTM trans urination devices. It is our hope that these garments and accessories help trans, non-binary and non-conforming individuals feel that they can express their inward identity through what they choose to wear. We are thrilled to team up with GIESORC and help them support, advocate and create an affirming, fun place for everyone no matter how they identify. 
We are excited that GIESORC is available to college students and hope to see more continuing education places offer similar resources. Going off to college is often a time of self-discovery and exploration. It is a time to discover who you are as an individual, and while that may be fun for some, it can also be a confusing and scary. Resources that offer support to the LGBTQ+ community during college can have a huge and lasting effect on how these young adult see themselves now and forever.
Where You can Find Non-Conforming Underwear
Kade & Vos is working to create our own line of non-gender-conforming underwear. However, in the meantime, there are plenty of other amazing brands that are working to create underwear everyone can love and feel is made just for them. Some of our favorite brands include:
Tomboy X: An eco-friendly brand creating comfy, "less-feminine" underwear options for all people. They've also contributed to the Fluid Fashion closet!
Pyramid Seven: An underwear brand that started as a means to create boxer brief that could easily fit a sanitary pad. The brand has grown to provide a variety of amazing products and was named "one of 30 innovations that made 2017 a better place" by Mashable.
Tack: An LA based brand creating handmade, silk underwear and garments for all gender identities.
We are extremely excited to see more and more non-gender conforming underwear hitting the market every day. While it may seem trivial to some people, having access to clothing that expresses your unique identity is a vital part of each of our senses of self, which is something we all deserve to have, to enjoy and explore freely.
How you can help:
Interested in supporting the Fluid Closet?
Connect with them on Instagram @fluidfashionatgiesorc
OR
Email
Acacia Kapusta, MA (she/her/hers)
Outreach and Education Coordinator
Interested in hearing more about Kade & Vos? Subscribe to our newsletter and get 20% off your first order plus you'll be the first to hear about new projects and products.
Subscribe here.
Leave a comment
Comments will be approved before showing up.