Introducing Classics Underwear: A letter from the CEO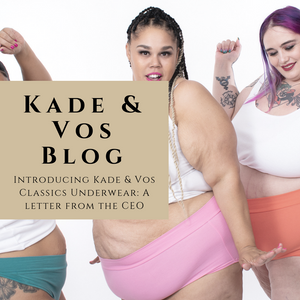 Dear Kade & Vos fam,

My vision for Kade & Vos has been to not only offer quality, comfortable products to people of all sizes, but to provide a new narrative about the body to as many people as possible. Well designed clothing has tremendous power to shift how someone views their body and, over the past years of designing I've had the privilege to hear many stories. I've heard your stories about wearing Kade & Vos and how our products have brought comfort and confidence into your life. I've heard your experiences of wearing Kade & Vos and completely forgetting that you were wearing clothing. Freeing people from the bonds of both the physical and mental distractions of clothing, has been so rewarding. When we're not distracted by our clothes, we are more free to breathe and be. I want more people to experience this freedom. 


That is why we made it our 2019 mission to create quality, comfy, affordable cotton underwear. Of course, making our product more affordable meant making some changes in our fabric and supply chain. The Classics underwear is ethically made in China out of sustainable materials. For the Classics Collection, that means ultra soft, jersey knit cotton -  and every pair is available in any size. In fact, if your size isn't available on the website, we will make a pair especially for you (at no extra cost). We believe everyone should feel comfortable and confident in what they wear, and that starts with amazing underwear. 


Always My Best,
Dr. Deb Christel
President & CEO 
Below is a quick Q&A sheet for questions you may have about the new products:
Why is reducing the cost important?
Weight-based discrimination consistently affects every aspect of employment, from hiring to firing, promotions, pay allocation, career counseling and ultimately income. Income bias tends to be felt most by overweight women, who are battling both the glass ceiling and the stigma of being fat. In 2004, The Journal of Health Economics found that fat women earn 6.2% less in annual earnings compared to thin women. Furthermore, workers who are heavier than average are paid $1.25 less an hour. Over a 40-year career, they will earn up to $100,000 less before taxes than their thinner counterparts (Baum, 2004). Decades' worth of research show just how pervasive the problem is. 
How is the Classics Collection different? 
How much will the Classics cost?
$12 per pair OR

3 for $30 

5 for $50 (save $10)
What colors are the Classics available in?
Bubblegum Pink, Coral, Grape, Overcast Grey, and Pacific Pine (voted on by you!)
When will the collection be available? 
You can buy the Classics in August (official date TBA) and all orders placed in the first 48 hours get FREE-SHIPPING. Be sure to sign up for our newsletter to be among the first to know.
Will you still offer the made-in-USA Signature line?
Of course! shop our Signature Collection here. 
Leave a comment
Comments will be approved before showing up.