Connection to community: Why explore local history?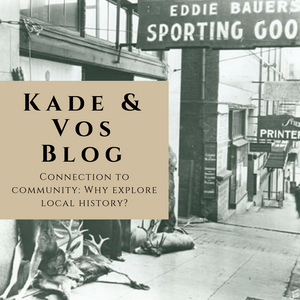 Join Kade & Vos alongside numerous other Pacific NorthWest fat/plus-size fashion brands in a fun night with a fashion show and pop-up shop! See brands such as TomboyX, Indian Summer, More Fats More Femmes, Nordstrom and others as we celebrate the progress Seattle is making for size-inclusive fashion. 
What's It Called:

BIG MOOD: A Night of Fat Fashion

Who's Hosting: MOHAI The Museum of History and Industry 

Open your world to the vast diversity of shapes, sizes, and styles that exist and thrive around you! This night of immersive experiences, curated by

Adria Garcia

and

Kim Selling

of Indian Summer and More Fats More Femmes, features a fashion show, pop-up market, and conversations punctuated with live music.

Cost:

$5 for MOHAI members / $10 general public 

Get Tickets

HERE

When:

Wednesday, September 25, 2019 6 – 9 pm

Where:

Museum of History & Industry (MOHAI)                                              

860 Terry Ave N, Seattle, WA 98109
Why should you make it to this event? 
Not only are current brands being highlighted, the MOHAI museum has an incredible exhibit showcasing what Seattleites wear—past and present. Featuring Pacific Northwest regional style, and the most prominent showcase of MOHAI's clothing collection, Seattle Style: Fashion/Function explores the sensibility of Seattle fashion, bringing together men's and women's fashions from the mid-1800s to today. Learn about how elegance and practicality co-existed and converged in Seattle wardrobes, providing new insights into local clothing ranging from couture to grunge aesthetics. And, the event is presented by local favorite, Nordstrom.
Curated by MOHAI's Collections Specialist for Costumes and Textiles
Clara Berg
,
Seattle Style: Fashion/Function
showcases the complex history of clothing in Seattle, including its innovations, its influence, and its connections to the broader fashion world.
Why learn about local fashion history?
To most of us, studying history emphasizes studying on a grand scale. The rise and fall of empires, the progress of major social and economic changes, macro-studies of people and world events. Of course, the big picture of history is vitally important, but it is worthwhile to remember that those major events were made up of individuals, families, locales and communities that all played their part in shaping, and being shaped by, history. 
Microcosm of local history
Local history holds a wealth of details and stories that reveal how societal changes impacted the lives of ordinary people. It can be seen as a 'microcosm' or representation of larger patterns on a small scale. Local fashion companies transformed our society in many ways, such as providing jobs and easing the access to products needed in the PNW climate. By investigating local history, we can find documents such as accounts of the first companies in town, what people thought of them, why they were successful and how they changed the lives of the area. History writ large can tell us about events like the Great Depression of the early 20th century, while local history can show the impact of the crisis on individual companies. A local example is John W. Nordstrom, an immigrant from Sweden who traveled to Seattle, WA for a better life. Despite the onset of the Great Depression, the two Nordstrom stores stayed open and managed to make $250,000 in sales. The shoe stores survived the Depression, but faced another severe threat during World War II, when leather rationing prohibited U.S. consumers from buying more than three pairs of shoes per year. The Nordstrom brothers had to search nationwide for supplies of shoes. Learning about local history turns these grand patterns of historical change into concrete stories that tell the lives of individuals.
Wallin & Nordstrom ca.1901 
Community
Growing up in the PNW, things as mundane as a puffy rain jacket reflected a long heritage of past generations. Yet few of us, including myself, know the origins of histories behind our community. Over the course of starting Kade & Vos, I learned histories of other fashion brands I had known my whole life without ever giving them a second thought. 
Eddie Bauer, for example, after a near death experience, patented the first quilted down jacket. He later went on to create numerous other patents and his company was the first independent company which the U.S. Army hired and allows to use a logo on the Army-issued uniform. Now, whenever I pass by a puffy or quilted down rain jacket, I can't help but smile as I feel a connection to the past of my community.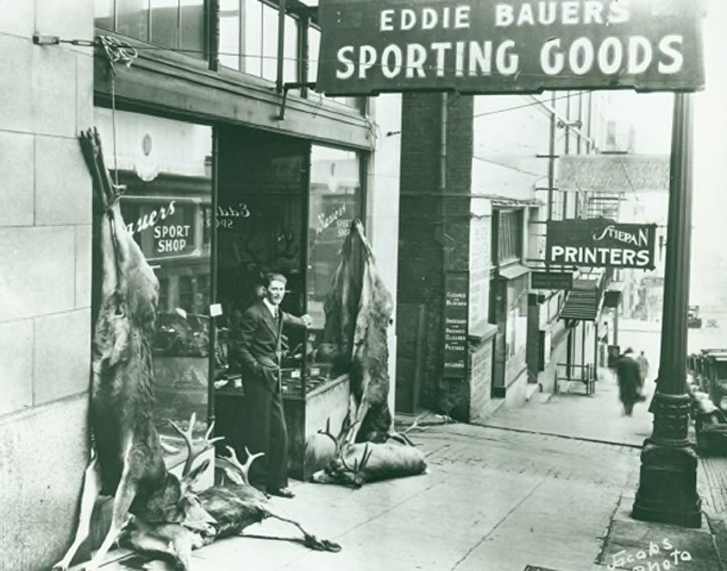 Eddie Bauer in front of his story ca. 1920 image courtesy of Eddie Bauer archives
History is all around us.
Learning about local history can help us realize the grand scheme of historical change is made up of countless individuals like you and those around you, who in their own ways contributed to the ongoing story of your community. I am certain these stories contain fascinating details that is worth finding and preserving. 
By now, you might be asking, is there really enough fashion history in Seattle for an entire exhibit? Well, did you know that Seattle ranks fourth - behind only New York, Los Angeles, San Francisco- as a major area of fashion design and apparel talent? Our Seattle fashion industry supports more than 800,000 jobs ranging from fashion design, merchandising, retail, e-commerce and distribution. 
We've have…..
Kirkland brand from Costco - both founded  in Seattle!
Check out this full list of all Washington based brands!
I hope you are able to make the event, meet with us, enjoy the rich history and learn about progressive companies that continue to make Seattle a major fashion hub.
Get Tickets HERE 
Leave a comment
Comments will be approved before showing up.