Supply Chain 1.0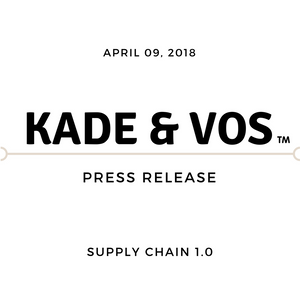 Kade & Vos values honesty, transparency, safety, fair wages and supporting our local economy. Therefore, we're excited to share our complete supply chain. As we continue to grow and expand our product offerings, our supply chain will also expand and become more complex. With that being said, below is our supply chain version 1.0 and we are dedicated to updating you as we grow. 
Kade & Vos is proud to be Made in America. This is important to us because there is no greater gift than supporting people who live and work in the United States. We also highly value safety and a fair wage in exchange for work. Our great country has laws in place to ensure that everyone is protected and safe in their work environments and paid a fair wage. Other offshore countries do not adhere to such strict standards and often barely pay enough to make a living wage. While many offshore manufacturing companies have improved, it is a long journey to see it for yourself often with many communication barriers. We have the luxury of a short flight or quick phone call to check in with our suppliers. We also have the luxury of being able to make quick changes to our production runs and be flexible with demand without having to wait several months for product to arrive.
The K&V supply chain begins with cotton. We are committed to using USA grown Supima Cotton and other domestically grown cotton varieties in our garments. Cotton is naturally biodegradable and rated the worlds most popular fabric. We use the highest quality Supima cotton, that is only grown in the Southwest United States. Here are some USA cotton farms, cotton farming communities and newspaper clips to check out: San Joaquin Valley Quality Cotton Growers Association, Gila River Indian News - Arizona Cotton Farms,  Caywood Farms fourth-generation, family-operated farming business Casa Grande, Arizona, Texas Farm Bureau.
Supima cotton is a superior type of cotton grown in the USA. It represents less than 1% of cotton grown in the world. What makes Supima unique to other cottons is the extra-long staple fiber that gives the cotton its premium properties: Strength, Softness and Color retention. 
Supima cotton is only grown in America, and primarily in the southwest. A purchase of clothes or linens labeled with Supima cotton supports the national economy, because the product is likely to be domestically produced.
Buhler Yarn is located in Jefferson, Georgia where it is cleaned and spun into yarn. The cleaning process includes picking out the cotton seeds and husks, and the spinning process involves twisting the cotton fibers together to create yarn. We have our yarn spun very fine so that your fabrics are lightweight, stronger and softer. 
The other ingredient in our fabric, is an elastane fiber that is similar to spandex. We source this from a company called Lubrizol. The company's headquarters are in Wickliffe, Ohio and their elastane fiber is made in North Carolina. The fiber performs better than spandex and results in a smoother, softer, stretchier and stronger yarn - making your underwear and other products last longer and fit you better. We've loved working with Ravi (PhD in Chemistry and is the Global Market Development Manager) and Lisa (Performance Apparel Marketing Department).
The cotton yarn and elastane yarns are both sent to Haw River, North Carolina, to a company called Flexlon, where Emmett and his team knit it into fabric.
(This is Emmett at his circular knitting machine*)
Once the fabric is knit, it needs to be dyed and finished. We have our fabric dyed and finished in Statesville, North Carolina at Synergy Dyeing and Finishing Contractors -
MoCaro
. The fabric is then dyed the product color, and begins the finishing process. To finish the fabric is goes through a process of washing, drying,
scouring
, ironing, and stretching and other processes so that the fabric retains is stretch and softness. 
Our Signature Fabric finishing process was developed with the help of
Cotton Inc.
to provide the softest, most durable, highest quality underwear possible. 
The fabric is then rolled onto large bolts and sent to Stone Mountain, Georgia, where a veteran own company,
Graphic Ragz
, cuts and sews our fabric into garments. Graphic Ragz is a veteran owned and family run business. We are proud to work with Billy and Wendy and love the high quality construction and customer service they provide. 
The finished garments are then sent to Kade & Vos headquarters in Tacoma, Washington, where we receive your orders and package and ship them out to you!  
Thank you for taking the time to learn about the K&V Supply Chain and all the people behind your products. Let us know in the comments if you have any questions about the Kade & Vos supply chain.
Leave a comment
Comments will be approved before showing up.