Kade & Vos Presents 'Queen's Army: Underwear on a Mission'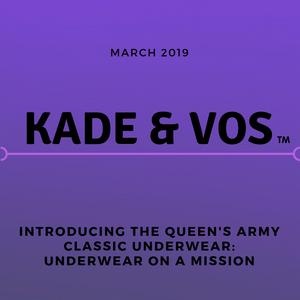 Kade & Vos Presents 'Queen's Army: Underwear on a Mission'
The month of March is Multiple Sclerosis (MS) Awareness Month, and to do our part to help spread awareness for MS and the powerful women fighting this disease, Kade & Vos is bringing you Underwear on a Mission.
To show our love and support for the amazing work the Queen's Army is doing, we are thrilled to introduce the K&V Queen's Army Classic Underwear. This underwear will kick off a line of underwear all new to Kade and Vos: The Classics Collection.
The Classics Collection will feature the same designs and styles of the signature collection at a new, more affordable price. Throughout March, enjoy the classics collections in deep, royal purple to shine a light on the Queen's Army. Each garment is also printed with the Queen's Army official seal. For every pair sold, 20% of the profit will go straight to the National MS Society to continue its mission of raising awareness of MS and empowering the women who have it.
Of course, like everything we offer, each pair of Queen's Army Signature Underwear is made in the U.S. out of sustainable cotton materials.
At Kade & Vos, we aim to do more than sell underwear. We're here to make a difference in the community as well. We'd love for you to help us in this mission to spread awareness of a disease that, according to The American Academy of Neurology, nearly one million people are living with in the U.S.
Who: Kade & Vos
What: For every K&V Queen's Army Classic Underwear purchased, 20% will go to MS Society
When: Throughout the Month of March 2019
Where: Online at KadeVos.Com
Why: To spread awareness for this debilitating disease and help generate funds for the MS Society
For more information on Multiple Sclerosis (MS) check out this link: https://www.nationalmssociety.org/
To shop for Queen's Army Classic Signature Underwear or any other K&V products, check out this link: Queen's Army
Press Contact: Deb Christel 253-203-4189 deborah.christel@kadevos.com
Leave a comment
Comments will be approved before showing up.