Press Release April 10, 2018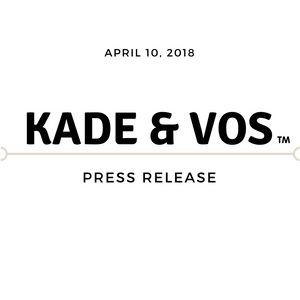 FOR IMMEDIATE RELEASE: April 10, 2018
MEDIA CONTACTCo-founder: Deborah Christel, Ph.D.                      Organization: Kade & VosPhone: 253-203-4189Email:
deborah_christel@kadevos.com
Two Washington Women at Size-inclusive, E-commerce Fashion House Kade & Vos Announce First Product
Tacoma, WA: Two women with fashion-design backgrounds joined forces in 2017 to launch the innovative, Tacoma-based, online company, Kade & Vos, to "reconstruct and humanize the fashion world for the better." On April 10, 2018, their first product, Reversible Natural Cotton Layering Tank"designed to fit the curves of your body"—went on sale.
Kade & Vos specializes in natural-cotton-based, American-made, elastic-free, tagless, and moisture-wicking women's clothing. On its website at https://kadevos.com is its first product: A limited-edition, reversible tank top in sizes S-6XL.
A wear tester, Linda, give the tank top 5 stars, reviewed the product and said,
"This is the most amazing tank I have ever worn. Sooo comfortable and breathable! I will be telling all my friends to get one, and I'm ordering more."
Co-owners share obsession for fashion inclusivity
Former apparel design professor Deborah Christel, Ph.D., is the co-founder, CEO, and president at Kade & Vos, partnering with former fashion-design student Ashley Scott Morse, business co-founder and vice president. They met in apparel design classes at Washington State University and again as volunteers at a local community theater. They shared an obsession with inclusive fashion and body positivity.
Even the company name—Kade & Vos—reflects the co-owners' philosophy. "Our name means 'The Caretaker and You' in Latin," the website explains.
Home-based, e-tailor business model
Run out of a house, Kade & Vos is an innovative e-tailor business that sells garments to women of all shapes and sizes. While Christel and Morse create the designs, they are produced at an American, veteran-owned manufacturer.
A Kade & Vos underwear and bra line will be available summer 2018, said Christel. Future products will include leggings and athleisure wear. Morse said the company mission and values include an emphasis on natural fibers such as U.S.- grown Supima cotton and a weight-bias employee education program.
Fashion-for-all philosophy
"At Kade & Vos, we never use the term "plus-size" because we feel that calling some sizes "plus" means that these sizes are somehow different from others," Morse said. "We propose to be the healers for the ways in which people of all sizes have been hurt or wronged by fashion."
Through Kade & Vos fashions, Christel and Morse will express that every human deserves comfortable clothing that fits well and makes them feel good. They want to change the way people view themselves and the way that people view the human body.
"We intend to free people from discomfort so they can focus on the things that really matter," said Christel.
Explore Kade & Vos
Read more about the company, the founders, and fashions for all online on the Kade & Vos website, and on  Instagram at @Kade_Vos, Facebook at Kade & Vos,  Twitter at @Kade_Vos, and LinkedIn at Kade & Vos.
*Ashley and Deborah: April 10, 2018 Downtown Tacoma on their way to see Cabaret at the 
Pantages Theater
 with the
Leave a comment
Comments will be approved before showing up.